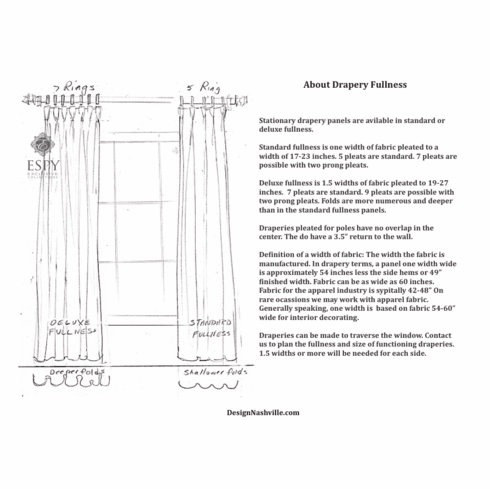 About Drapery Fullness 1 width or 1.5 widths
Get draperies made just the way you want them at DesignNashville.com

You may want to read about drapery fullness for your window:

Stationary drapery panels are available in standard or deluxe fullness.

Standard fullness is one width of fabric pleated to a width of 17-23 inches. 5 pleats are standard.

Deluxe fullness is 1.5 widths of fabric pleated to 19-27 inches. 7 pleats are standard. Folds are more numerous and deeper than the standard fullness.

Draperies pleated for poles have no overlap in the center. They do have 3.5" return to the wall.

Definition of a width of fabric: The width the fabric is manufactured. In drapery terms, a panel one width wide is approximately 54 inches - side hems or 49 inches. Fabric can be as wide as 60". 48" wide goods are used primarily in the apparel industry. For our purposes, a width is always based on fabric 54-60' wide.

Draperies can be made to traverse the window. Contact us to plan the fullness and size of operational draperies. 1.5 widths or more will be needed for each side.
Accessories